Reading Time:
5
minutes
If you're looking into how much do tattoo artists make, you're obviously hoping to get a good idea of what kind of money you'll earn in the industry. While most people assume it's big bucks from the start, that's almost always not the case.
It takes a lot of time, hard work and commitment to become a well-paid tattoo artist, but after speaking to some established tattoo artists in the UK, we've got the inside scoop on how to get there.
How much does a tattoo apprentice earn?
Unless you're very lucky, the majority of apprenticeships are unpaid, so you'll need to be prepared and willing to work this way for as long as it takes, and getting an apprenticeship in the first place isn't easy. A lot of good tattoo artists are so busy with their own work, they simply don't have the time to train someone new. So, the trick is to do your research and get in touch with as many studios as possible – and try to get in front of them. Like anything, you're much more likely to be remembered if you speak to someone face to face.
Lianne Moule, part owner of Immortal Ink in Chelmsford worked as a receptionist in a studio for a while before beginning an apprenticeship. Following some advice, Lianne took on a second apprenticeship in a tattoo shop on the high street in North London. This gave her the experience of both creative studios and traditional shops, and her experience paid off. She said "You never stop learning. You think you know everything but you don't – you're always learning".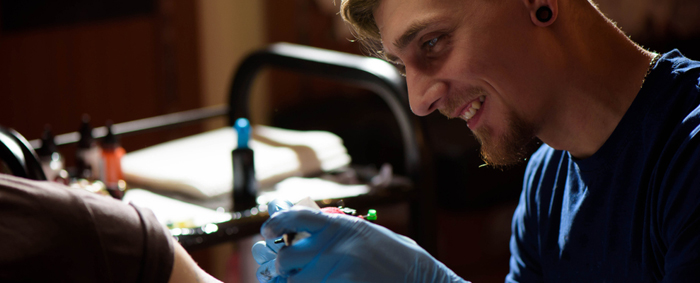 While you're training as an apprentice, you'll most likely spend a lot of your time tattooing friends and family members for free, as well as oranges, grapefruits, bananas and pig skin. Until the artist you are working for deems you good enough and trustworthy enough to tattoo paying clients, you'll have to keep going for free – so the secret is to work hard and constantly strive to better yourself.
We also asked Lianne what she thought was the key to becoming successful once you've got your apprenticeship. "It depends how you measure success. If you want to make a lot of money, you'll need to get your head down. Enjoy the journey, enjoy your designs, enjoy your customers – success will follow if you enjoy what you do".
"If you want to make a lot of money, you'll need to get your head down. Enjoy the journey, enjoy your designs, enjoy your customers – success will follow if you enjoy what you do."

Lianne Moule, Immortal Ink, Essex, UK
It's more than just a job
Being a tattoo artist is undoubtedly fun, and it comes with a huge amount of job satisfaction, however, it's a career which will become your life – so you can't just think of it as a money-maker. You need to have a strong passion for it.
As we heard from the artists we spoke to, you never stop learning and in order to earn a lot of money, you'll need to devote most of your time and attention to tattooing.
Tattooing isn't a 9-5 job either. It's something that demands your full attention, so it's difficult to sit and do that for a solid 8 hours whilst sat in awkward position. And when you're not tattooing – you're drawing.
Most artists use their evenings or days off to draw, whether that's upcoming designs clients have requested or their own personal designs. It's something all established artists have assured us is extremely important to do.
"Even my days off are drawing days."

Sneaky-Mitch, Gold Room Tattoo, Leeds, UK
Hourly rates
When it comes to a tattooist salary and hourly rates, there isn't a one-size-fits-all approach. How much you charge will be completely dependent on a number of things, such as style, technique, location and experience. Regionally, rates change dramatically. In London, or the south in general, some artists can charge up to £150 per hour, whereas the general cost in the north is from £80 – £100 per hour.
The studio in which you work is also a factor. Some employers decide the rates for their employees and pay them a percentage of what they make. This decision will normally be based on how good the employer/studio owner thinks your work is, how hard-working you are and how in-demand you are. If you're constantly fully booked, chances are you'll have your rates put up.
Don't forget, there'll be overheads you still need to account for such as equipment and supplies, so remember to consider that when you're trying to work out your earnings.
Promoting yourself
Promoting yourself is also key to earning money. Especially if you work in a studio with low footfall i.e. one that is out of the way/not on a high street. Most artists nowadays use the power of social media to advertise their work and dedicate their Facebook and Instagram pages to their career. By showcasing your art and giving a bit of insight into a day in the life of you as an artist, you're likely to gather a good following and in turn, pick up more work.
The artists we spoke to recommended to post more pictures of fresh and healed work on clients as opposed to your designs on paper. Doing this tends to fill clients with more confidence because they can actually see what you're capable of achieving on skin.
If you're really good, you might even have your pictures shared by a well-known tattoo Instagram page. Bear that in mind when you're trying to work out how much value there is in social media. (There's a lot.)
In a nutshell, you'll never know exactly how much money you'll earn as a tattoo artist until you're a tattoo artist. But, if you're passionate, hard-working and devoted to bettering yourself every day, the money will come, and it'll be a bonus if there's a lot of it.