Reading Time:
5
minutes
Als je wilt uitzoeken hoeveel een tattoo-artiest verdient, heb je vast al een idee van wat je ongeveer verdient in dit wereldje. Veel mensen denken dat dat vanaf het begin heel veel is, maar dat is meestal niet het geval.
Het kost veel tijd, hard werken en toewijding om een goedbetaalde tattoo-artiest te worden, maar nadat we enkele gevestigde tattoo-artiesten verspreid over Europa spraken, kregen we insiders details over hoe je dat bereikt.
Hoeveel verdient een tattoo-apprentice?
Misschien heb je veel geluk, maar de meeste apprenticeships zijn onbetaald. Dus je moet daarop voorbereid zijn en bereid zijn om zo te werken zolang als nodig is, want het is toch al niet makkelijk om een apprenticeship te vinden. Veel goede tattoo-artiesten hebben het zo druk met hun eigen werk, ze hebben gewoonweg geen tijd om iemand op te leiden. Je moet een en ander dus goed uitzoeken en zoveel mogelijk studio's benaderen – en probeer ze rechtstreeks te spreken te krijgen. Net als bij alles zullen ze je beter onthouden als je ze direct gesproken hebt.
Lianne Moule, mede-eigenaar van Immortal Ink in Essex, VK, werkte als receptioniste in een studio voordat ze een apprenticeship startte. Lianne volgde advies op en deed een tweede apprenticeship in een tattooshop in de hoofdstraat in het noorden van Londen. Dit bezorgde haar de ervaring van zowel een creatieve studio als een traditionele shop, en dat loonde. Ze zei: "Je stopt nooit met leren. Je denkt dat je alles weet, maar dat is niet zo. Je leert altijd nog bij".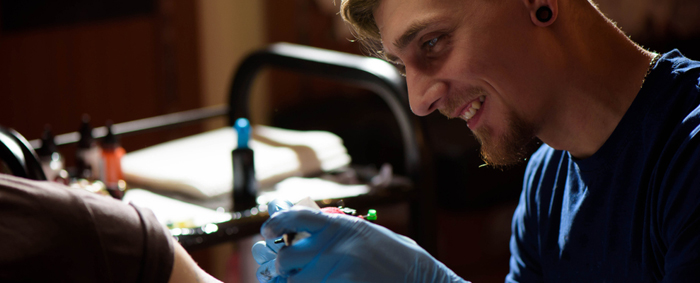 Terwijl je oefent als apprentice, zul je waarschijnlijk veel tijd doorbrengen met het gratis tatoeëren van vrienden en familieleden, evenals sinaasappels, grapefruit, bananen en varkenshuid. Tot de artiest waar je voor werkt je goed en betrouwbaar genoeg acht om betalende klanten te tatoeëren, zul je het gratis moeten doen – dus het geheim is hard werken en constant ernaar streven jezelf te verbeteren.
We vroegen Lianne ook wat zij dacht dat de sleutel was om succesvol te worden zodra je je apprenticeship gedaan had. "Het hangt ervan af hoe je succes meet. Als je veel geld wilt verdienen, moet je bescheiden zijn. Geniet van de dag en van je ontwerpen, geniet van je klanten – het succes volgt wel als je geniet van wat je doet".
"Als je veel geld wilt verdienen, moet je bescheiden zijn. Geniet van de dag en van je ontwerpen, geniet van je klanten – het succes volgt wel als je geniet van wat je doet"

Lianne Moule, Immortal Ink, Essex, VK
Het is meer dan gewoon een baan
Tattoo-artiest zijn is absoluut fun, en het brengt een heleboel tevredenheid met je werk met zich mee, maar het is wel een carrière die je leven wordt – dus je kunt er niet alleen over denken als iets wat geld oplevert. Je moet echt enorm gepassioneerd zijn.
Zoals we hoorden van de artiesten die we spraken, stop je nooit met leren en om veel geld te verdienen, moet je het grootste deel van je tijd en aandacht wijden aan het tatoeëren.
Tatoeëren is ook geen 9-5 baan. Het is iets dat je volle aandacht vraagt, dus het is moeilijk om te blijven zitten en het 8 uur achter elkaar te doen terwijl je in een onhandige positie zit. En als je niet aan het tatoeëren bent, ben je aan het tekenen.
De meeste artiesten gebruiken hun avonden of vrije dagen om te tekenen, voor toekomstige ontwerpen van klanten of voor hun eigen persoonlijke designs. Alle gevestigde artiesten hebben ons verzekerd dat het heel belangrijk is om dit te doen.
"Zelfs op mijn vrije dagen teken ik."

Sneaky-Mitch, Gold Room Tattoo, Leeds, VK
Uurtarieven
Als het om het salaris van een tatoeëerder gaat, is er geen kant-en-klare benadering. Hoeveel je vraagt, hangt helemaal af van een aantal dingen, zoals de stijl, techniek en ervaring. Per regio verschillen de tarieven niet zoveel binnen Nederland, hoewel het tarief wel wat hoger kan zijn als een studio zijn naam al 'heeft verdiend'. Soms zijn de tarieven lager als er veel studio's in hetzelfde gebied zijn. Nederland is een klein land, en de shops liggen dus dicht op elkaar in een klein gebied wat de concurrentie groter maakt.
In veel Europese landen is een uurtarief nog heel gangbaar. In het westen en zuiden van Nederland bijvoorbeeld, is een normaal uurtarief waarschijnlijk rond de €100 tot €125 per uur. Verder naar het noorden in ons land is het niet zo hoog en ligt het eerder rond de €80 tot €100 per uur.
"Ik maak een offerte afhankelijk van het project."

Tito Inkid, L'Atelier Sans Nom, Armentières, Frankrijk
De studio waar je werkt is ook een factor. Sommige werkgevers beslissen over de tarieven van hun werknemers en betalen ze een percentage uit van wat ze omzetten. Deze beslissing zal over het algemeen gebaseerd zijn op hoe goed dat de werkgever/studio je werk vindt, hoe hard je werkt en hoe groot de vraag naar je is. Als je constant volgeboekt bent, is er grote kans dat je tarief hoger wordt.
Vergeet niet, je moet nog steeds rekening houden met vaste kosten, zoals voorzieningen en voorraad, dus denk eraan dat je dat meeneemt als je je verdiensten berekent.
Reclame maken voor jezelf
Reclame maken voor jezelf is ook een sleutel om geld te verdienen. Vooral als je in een studio werkt met weinig toeloop, die dus wat afgelegen of niet aan een hoofdstraat ligt. De meeste artiesten tegenwoordig gebruiken de kracht van social media om hun werk te promoten en wijden hun Facebook- en Instagram-accounts aan hun carrière. Door je kunst ten toon te spreiden en wat inzicht te geven in een dag uit het leven van jezelf als artiest, verzamel je waarschijnlijk goede volgers en dat levert je ook meer werk op.
De artiesten die we spraken bevelen aan dat je meer foto's van pas gezette en geheeld werk op klanten plaatst als tegenhanger van je ontwerpen op papier. Dit geeft klanten meer vertrouwen, want ze kunnen dan zien waartoe je in staat bent op de huid.
Als je echt goed bent, worden je foto's misschien zelfs gedeeld door een bekende tattoo-Instagram-account. Hou dat in gedachten als je probeert uit te vinden wat de waarde van social media is. (En die is heel hoog).
In een notendop, je zult nooit precies weten hoeveel je verdient als tattoo-artiest tot je ook echt een tattoo-artiest bent. Maar als je gepassioneerd bent, hard werkt en toegewijd bent om jezelf elke dag weer te verbeteren, komt het geld wel en het is een bonus als het ook nog veel is.