Reading Time:
3
minutes
Prince Albert jest jednym z najpularniejszych męskich kolczyków narządów płciowych. PA to piercing w kształcie pierścienia, który rozciąga się wzdłuż dolnej części żołędzi od otworu cewki moczowej do miejsca, w którym żołądź styka się z trzonem penisa.
Prince Albert jest nieskomplikowanym kolczykiem, który jest noszony głównie ze względów estetycznych, jak również w celu zwiększenia podniecenia seksualnego. Poprzez stymulację cewki moczowej i wędzidełka (pasmo tkanki skórnej na spodzie żołędzi), użytkownik doświadcza dodatkowych bodźców, które mogą być przyjemne. Partnerka może być również dodatkowo pobudzona przez piercing z powodu zwiększonego tarcia i nacisku. Jednak może to być również postrzegane jako bolesne, więc początkowo należy zachować ostrożność!
Kobieca wersja tego piercingu nazywana jest piercingiem Księżniczki Albertyny (więcej informacji na temat tego piercingu można znaleźć na stronie tutaj).
Skąd się wziął piercing Prince Albert?
Miejska legenda głosi, że piercing księcia Alberta pochodzi od męża brytyjskiej królowej Wiktorii. Książę Albert (1819 – 1861) rzekomo miał ten kolczyk, aby móc przymocować swojego penisa do guzika spodni. Umożliwiło mu to noszenie modnych wówczas obcisłych spodni wojskowych bez widocznego wybrzuszenia. Ponadto mówi się, że trwałe cofnięcie napletka zapobiegało tworzeniu się łoju napletkowego (smegma).
Prawdziwość tej historii jest jednak wysoce kontrowersyjna.
Jak zrobić kolczyk Prince Albert?
W przypadku obrzezanego penisa, przekłucie jest umieszczane dokładnie w miejscu usuniętego wędzidełka napletkowego. W przypadku penisa nieobrzezanego, punkt przekłucia wybierany jest obok wędzidełka napletkowego. Piercing może być wykonany na dwa różne sposoby.
W pierwszym wariancie, kaniula (pusta igła pokryta plastikową rurką) jest wprowadzana do naturalnego otworu cewki moczowej. Aby uniknąć urazu, igła jest w tym procesie wciągana z powrotem do kaniuli. Po prawidłowym umieszczeniu kaniuli, igły są wypychane i piercing jest zakończony.
W drugim wariancie najpierw wprowadza się do cewki moczowej rurkę odbierającą (rurkę ochronną). Poprzez nacisk na zewnątrz, pozycja wewnątrz cewki moczowej jest widoczna i może być nakłuta w odpowiednim miejscu za pomocą igły do piercingu. Zapobiega to uszkodzeniu cewki moczowej.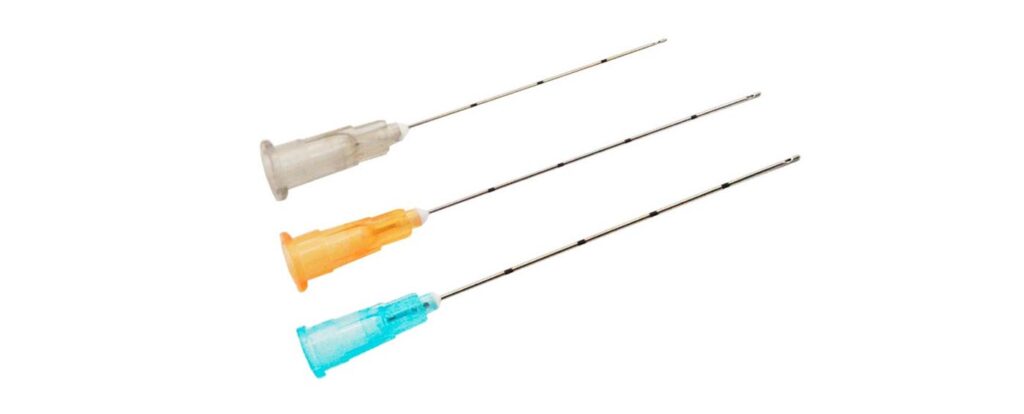 Prince Albert jest zwykle wykonywany igłą o grubości 2,4 mm. Istnieją narzędzia, takie jak to Prince Albert Piercing, które sprawiają, że proces piercingu jest jeszcze łatwiejszy. Należy pamiętać, że piercing powinien być zawsze przeprowadzany przez profesjonalnych piercerów.
Następnie przez nowo powstały otwór wkłada się zwykle zamknięcie kulkowe (lub pierścień segmentowy). Po zagojeniu można nosić inną biżuterię, np. zakrzywione sztangi (Banany) lub okrągłe sztangi (Circular Barbells). Jeśli ma być jeszcze bardziej wyjątkowe, można rozważyć także specjalnie wykonaną biżuterię Prince's Wand (zatyczka do penisa).
Czy piercing Prince Albert boli?
Ponieważ Prince Albert jest dość nieskomplikowanym i szybkim do wykonania przekłuciem, ból jest, wbrew pierwszym przypuszczeniom, całkiem znośny. W razie potrzeby można nawet znieczulić miejsce przekłucia. W rzadkich przypadkach, naczynia krwionośne przebiegają bezpośrednio obok wędzidełka napletka i mogą powodować komplikacje. Przekłucie jest nadal możliwe, ale ból jest znacznie silniejszy i może dojść do silnego krwawienia.
Jak długo trwa gojenie się piercingu Prince Albert?
Przy odpowiedniej pielęgnacji Prince Albert goi się zazwyczaj w ciągu 4 – 8 tygodni. Proces gojenia można dodatkowo wspomóc kąpielami rumiankowymi. Ze względu na wielokrotny kontakt z dezynfekującym moczem gojenie jest zazwyczaj nieskomplikowane.
Po zagojeniu Prince Albert jest zazwyczaj rozciągany, ponieważ grubszy piercing jest wygodniejszy w noszeniu. Zaleca się grubość około 4 mm (zamiast początkowych 2,4 mm) lub więcej, aby zapobiec wyrastaniu.
Podsumowanie
Piercing Prince Albert jest nieskomplikowanym kolczykiem intymnym, który goi się stosunkowo szybko i może zapewnić dodatkową stymulację seksualną dla użytkownika i jego partnerów. Po całkowitym zagojeniu należy go lekko rozciągnąć, aby był wygodniejszy w noszeniu.
Jeśli interesujesz się zarówno tatuażami, jak i piercingiem, z pewnością spodoba Ci się nasz artykuł "Najbardziej bolesne miejsca do zrobienia sobie tatuażu".